Dams of Distinction
Only the top Hereford females excel to this level of production and reproductive performance.  The Dam of Distinction honour is recognition of your cowherd as well as your excellent management ability.

Purpose:

The Dam of Distinction list shall honour cows in the Canadian Hereford Association herdbook that meet the highest standards for maternal ability, and rcognize the cattlemen and women who produced them.

Criteria:

Based on cows enrolled in our T.H.E. performance program that meet specific criteria, a Dams of Distinction list will be produced and published in the February/Commercial issue of the Canadian Hereford Digest.

In order to be honoured as a Dam of Distinction, a cow must have:

1.  Produced at least three calves.
2.  Weaned a calf born since January 1st of the previous year.
3.  Initially calved at 790 days (26 months) of age or younger.
4.  Had a calving interval between her first and second calf of no greater than 450 days (this is to allow breeders to calve two-year old heifers prior to the mature cow herd).  In addition, an average 370-day calving interval must have been maintained thereafter.
5.  Every calf produced must have had weaning records submitted on the Total Herd Evaluation (T.H.E.) performance program.
6.  An average weaning index of all natural progeny of at least 105.
Putney 10Z Lori 18G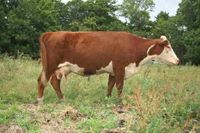 LOUADA FIELD MARSHALL 119V 13F

WOOLFORD'S MISS BANNER 83M
KOO 960S Lady Fortress 5J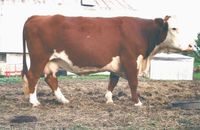 GOODINE PLEASER LASS 442W

GOODINE 67K BANNER LASS 211R